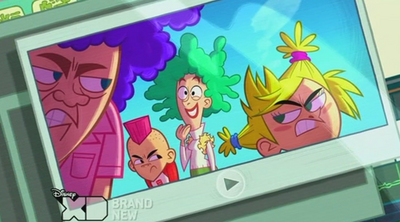 The Wright Family
 live in the
Cobra Mansion
. The show centers around two of its members:
Spencer Wright
and
Billy Joe Cobra
.
Spencer Wright: the level-headed protagonist. Likely the only sensible person in the entire family. He enjoys horror movies, video games, and hanging out with his buds. He's the only son of Hugh and Jane Wright and the older brother of Jessica Wright.
Billy Joe Cobra: the fun-loving deutertagonist. Billy is the ghost of an uber-famous, narcissistic pop star and Spencer's best friend. He's also Jane Wright's distant cousin.
Jessica Wright: Spencer's younger sister. Jessica is terrifying to everyone she encounters due to her violent nature combine with her crazy martial arts skill. She is the only daughter of Hugh and Jane Wright.
Hugh Wright: the paternal figure of the family. He enjoys manly things like tinkering in the garage and grilling meats. However, he's not always skillful at the former. Hugh is the husband of Jane Wright and the father of Spencer and Jessica Wright.
Jane Wright: the maternal figure of the family. She enjoys hairstyling and cooking, and prepares meals to appease the vengeful Principal Ponzi, when he visits. Jane is the wife of Hugh Wright and the mother of Spencer and Jessica Wright.
Ad blocker interference detected!
Wikia is a free-to-use site that makes money from advertising. We have a modified experience for viewers using ad blockers

Wikia is not accessible if you've made further modifications. Remove the custom ad blocker rule(s) and the page will load as expected.