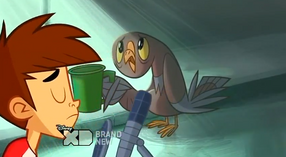 Help A Bird is a song sung by Spencer Wright during the events of For The Birds. It was part of a fundraiser campaign intended to persuade people to buy his candy instead of Lolo Calorie's. He had to be temporarily given Billy Joe Cobra's singing talent in order to sing it.
Time to help the birds
With a love so strong
Help a bird live
Help a bird fly
Woo! Buy Spencer's candy
And make a bird smile
Spencer's candy can make a bird smile
Help a bird live
Help a bird fly
Candy from Spencer
Can make a bird
Smile
Woo!
Ad blocker interference detected!
Wikia is a free-to-use site that makes money from advertising. We have a modified experience for viewers using ad blockers

Wikia is not accessible if you've made further modifications. Remove the custom ad blocker rule(s) and the page will load as expected.