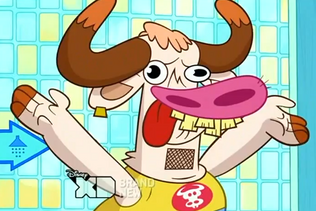 Bev the Bull is the mascot of Beverly Beverly High School. During the events of Ghost Mascot, Billy Joe Cobra dressed up as Bev to entertain the student body at Spencer Wright's wrestling audition.
Appearance
Edit
Bev is a slightly anthropomorphic bull with big brown horns, a cream-colored tuft of fur at the top of his head, and a smooth white coat. He has a tag in his right ear and really awful teeth. He also wears a striking yellow shirt with a red-and-white bull logo on it.
Whenever Bev is strutting his stuff inside the gym, a cowbell plays along with mooing that fits the routine.
Ad blocker interference detected!
Wikia is a free-to-use site that makes money from advertising. We have a modified experience for viewers using ad blockers

Wikia is not accessible if you've made further modifications. Remove the custom ad blocker rule(s) and the page will load as expected.